THERE WHEN YOU NEED US
24/7 TOWING
SATURDAY & SUNDAY
BY APPT.
Hanifen is your choice for towing in the Des Moines area and its surrounding cities.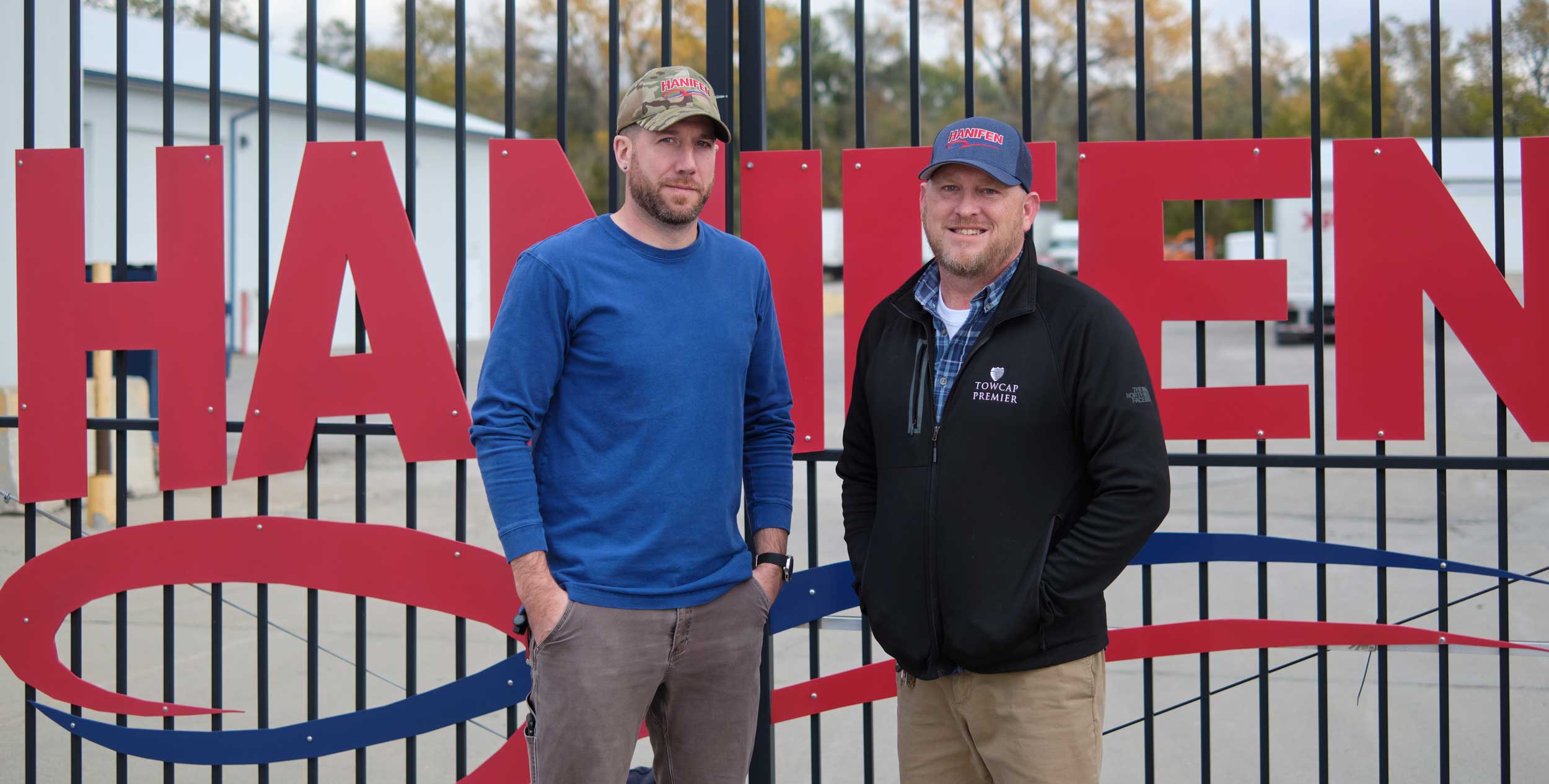 WHO WE ARE
2023 will be our 100 year anniversary! Our business was started in 1923 by Jim E. Hanifen as a small automotive repair shop and towing service in downtown Des Moines. In 1959, James' son, James E. Hanifen, Jr. relocated the company to a 10-acre lot just off of I-80 in Des Moines. It quickly grew to the largest and most reliable fleet in Iowa in the 80s and well into the 2000's under the guidance of Julie Hanifen, the third generation ownership. In 2017 Julie sold the business to long time employee and general manager John Kearse and longtime business banker Matt Hurd. John and Matt continue to strive to make Hanifen Towing a leader in the industry. Today we are not only the oldest and the largest established towing company in Des Moines, Iowa, but we continue to stay ahead of the times with an impressive state of the art fleet. Hanifen's property consists of 10 acres, 8 buildings, a multi-level dock, and a camera security system for safe storage of your equipment. Hanifen Towing is the gold standard in the towing industry, we specializes in Towing, Emergency Recovery & Equipment Transportation. We believe in taking care of our customers in a timely manner at a fair price, and Hanifen customers can know what to expect when they do business with us. We have been in business for almost 100 years and there isn't much that we haven't seen or done. We take pride in our integrity, and longevity, and strive to make our customers, employees, and neighbors proud to be associated with us. We will not and do not take advantage of people when they are in a bad situation. We are here to help.
An amazing family owned local towing company, they are very professional with well maintained uniforms and equipment. They have small wreckers as well as large semi sized hauling equipment. All of the staff has been amazing that I have met! They have guys on call for when you need them! Which is great because when are you stranded at a normal 9-5 M-F hour, hardly ever! They are 24/7. I will be using their services and I keep their card in my wallet if ever I have trouble I know that they are reliable, quick, and also very reasonably priced, and will handle my vehicle with care. Shop local first!!! Another little note, Hanifen Towing is HUGE into community involvement! I just wanted to give extra kudos for that!
– Genevieve W.
What a crew over there. They are very professional and get the job done at hand when ever you call. Thank you for all that you do.
– Adam M.
Called 5 different tow companies today. They answered, were polite, even mentioned another company if I was in a hurry. Charged less than the quote. And I simply cannot say enough positive things about their customer service!!! Their office and drivers were so professional and polite…SIMPLY WOW!!! Highly recommend and would definitely use them again!!!
– Tiffany B.
NEED MORE INFO?
CONTACT US
For general questions or any inquiries about us or our the services we offer, or if you are in need of a tow, please give us a call at 515-243-3205. We'd love to hear from you!
Hanifen Co., Inc.
5329 NW 2nd St.
Des Moines, IA 50313
Phone: 515-243-3205
Fax: 515-243-1409
info@hanifentowing.com